---
Welcome to the
Saskatchewan Music Festival Association
Competitive Festivals
The Saskatchewan Music Festival Association (established in 1908) is committed to promoting excellence in music and speech arts by providing performance and educational opportunities through competitive music festivals in the Province of Saskatchewan. In addition to the production of 47 district music festivals, SMFA provides a provincial Syllabus, entrance to the annual Provincial Competitions, Concerto Competition and Opera Competition, as well as the National Level of Music Festival competition. Member festivals are organized by local volunteers and judged by qualified professional musicians.

Areas of competition for musicians include: voice, piano, guitar, strings, woodwind, brass, percussion, pipe and electronic organ, choir/school music including special education, multicultural, speech arts (individual verse and speech therapy classes, storytelling), small ensembles, as well as band and orchestral classes. Entrance to SMFA festivals is accessible to all ages, all ethnic groups and people of all religions across the province. Participants may enter any classes for "adjudication only" and forego marks and scholarships. SMFA hires over 170 qualified professional musicians to serve as adjudicators each year.
Saskatchewan Lotteries
SMFA is one of the 12,000+ sport, culture and recreation groups funded by Saskatchewan Lotteries. Every time you purchase a lottery ticket in Saskatchewan, a portion of that revenue supports a wealth of organizations, including District Festivals across the province who are enriching their communities with performing arts. Help support the arts – Purchase your tickets TODAY!!

---
Canada West Performing Arts Festival – July 21 to 23, Saskatoon
Entries are now closed.
PROGRAM will be posted after July 13.
All guests on the U of S Campus will follow COVID protocols in place at the time of the competition. Beginning July 4, 2022, and continuing until August 29, 2022, the university will pause the mask protocol and move to a mask-friendly environment. Masks will not be mandatory indoors at that time, but they will still be highly recommended. https://covid19.usask.ca/working-on-campus/ppes.php#Maskrequirements
Campus Map – venues & parking
Accommodations
Food options near the venues
Need a collaborative artist? Click here for information (subject to change).
---
Saskatchewan competitors to Canada West Performing Arts Festival!
Forty-one competitors, their collaborative artists, and one choir have earned the right to represent Saskatchewan at the first annual Canada West Performing Arts Festival. Click here for the complete list of SK competitors performing at Canada West. Come to Saskatoon, July 21 to 23, and support our young musicians and speech artists!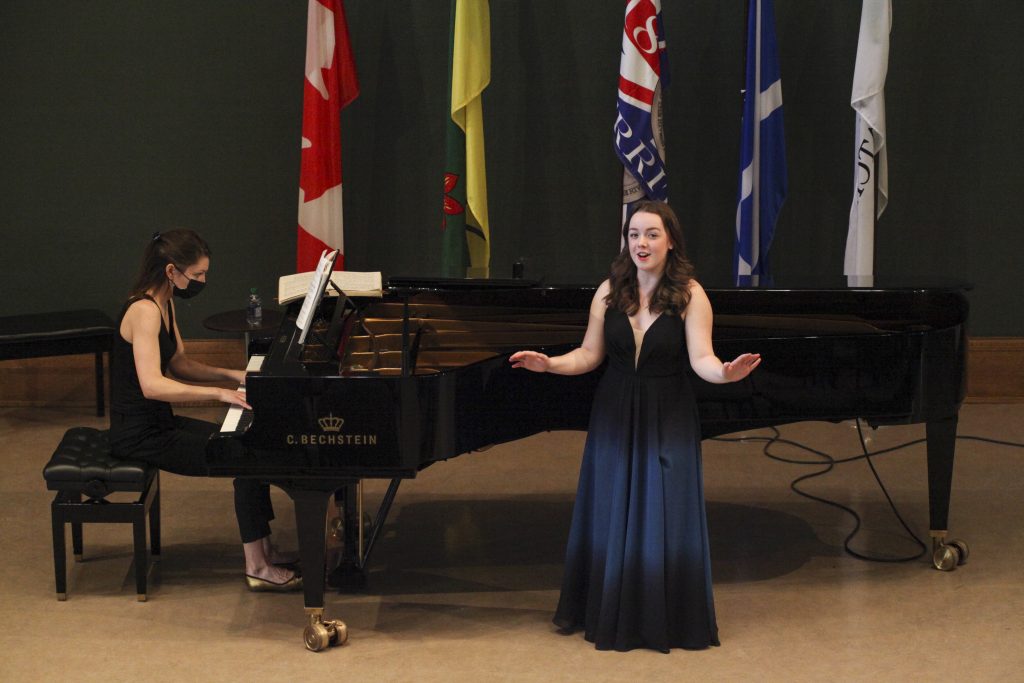 Kennedy Siba with collaborative artist Sofia Mycyk. Photo credit Stephen Nicholson
---
SMFA 2022 Provincial Finals – June 2 to 5, Saskatoon

Congratulations to the Grand Award Winners in the 28 years & under division!
Sister Boyle Senior Gold Award of $1,000 & Trophy: Alice Li (right)
Wallis Memorial Senior Silver Award of $750 & Trophy: Grace Liu (centre)
Blanche Squires Memorial Bronze Award of $500 & Trophy: Declan Hewitt (left)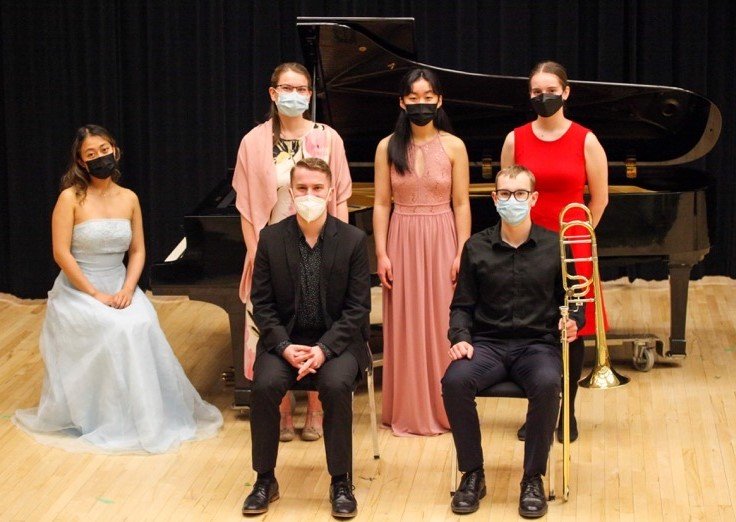 Congratulations to all the participants in the Grand Awards Competition!
Standing (left to right): Allison Gordon (Spoken Word), Grace Liu (Classical Voice, mezzo-soprano), Catherine McLellan (Cello)
Seated (left to right): Alice Li (Piano), Declan Hewitt (Musical Theatre, bari-tenor), Garrett Schwab (Trombone)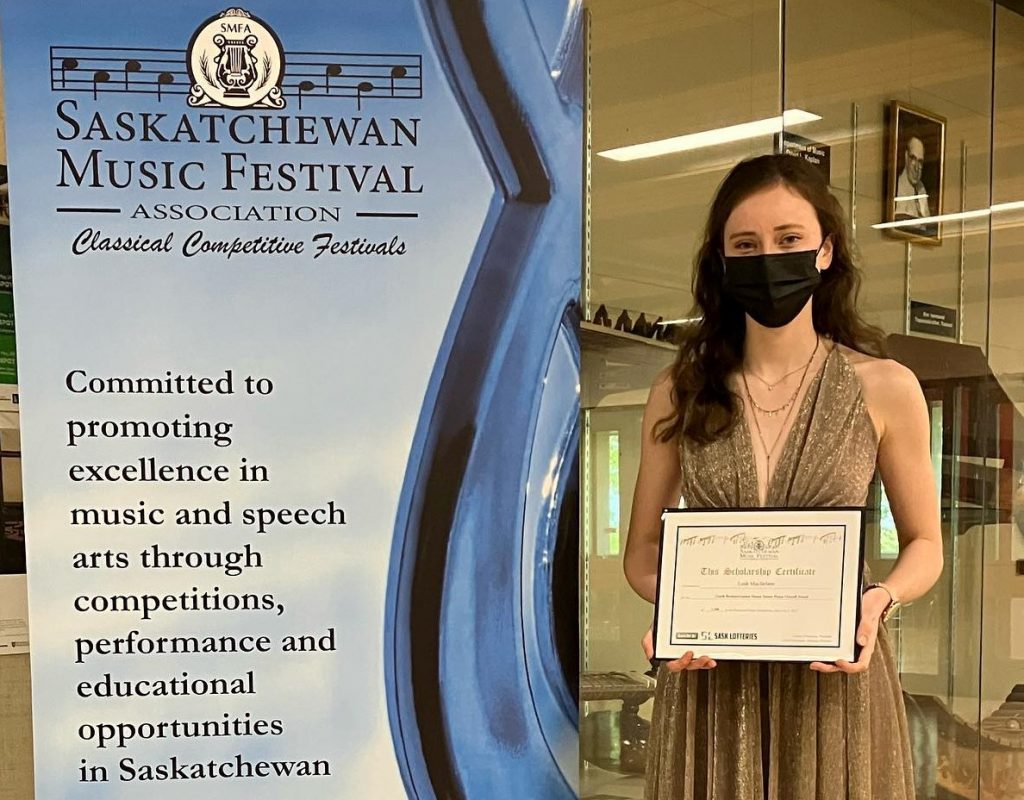 In honour and appreciation of Garth Beckett, distinguished graduate of the Lyell Gustin Piano Studios, concert pianist and revered teacher, the L. J. Fournier Family of Prince Albert offers a scholarship of $1,500 at the Saskatchewan Provincial Music Festival for a pianist in the early levels of Senior competition. The scholarship is open to students between the ages 18 and 20 inclusive who are competing in senior level piano classes, and will be awarded to the performer who, in the opinion of the adjudicator, shows the most promise. This year's recipient of the Garth Beckett/Gustin House Piano Scholarship is Leah Macfarlane. Congratulations!
Provincial Finals Program with results
---
FUNDS FOR FESTIVAL – Fundraiser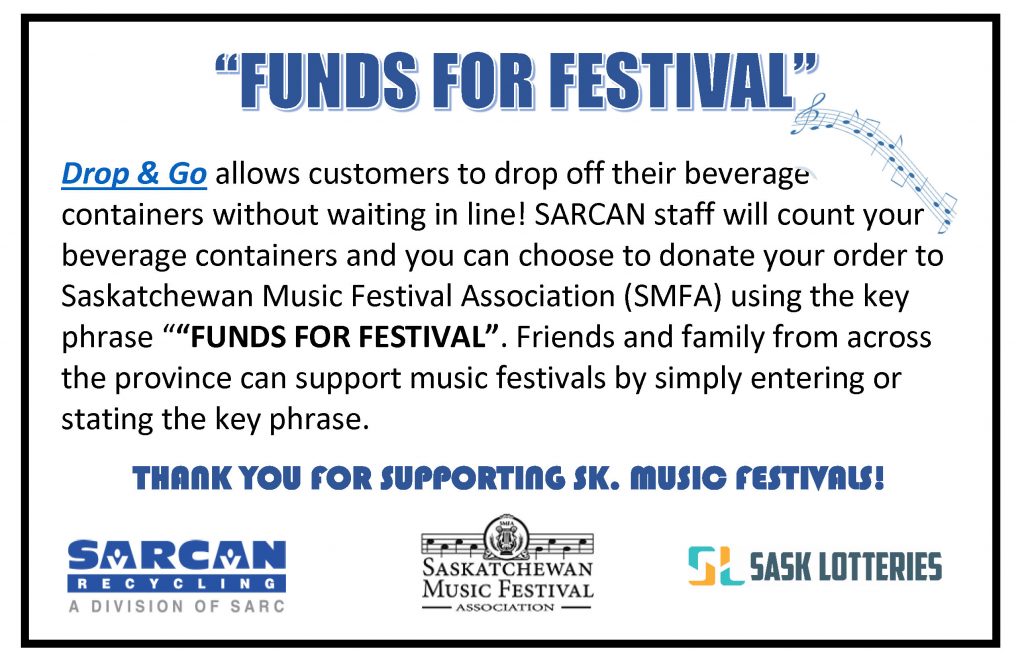 ---
SMFA Teacher Directory

The SMFA Teacher Directory is intended to help connect teachers with students in communities where there is a need. Teachers accepting new students are invited to submit their information to sask.music.festival@sasktel.net for inclusion in the directory.
SMFA Teacher Directory
Use of this resource does not constitute or imply an endorsement by SMFA.
---
Provincial Office – Address
The Provincial Office of the Saskatchewan Music Festival Association is now located at:
1600 MacPherson Avenue
Regina, SK   S4S 4C9
Mailing address:
PO Box 37005
Regina, SK   S4S 7K3
---
The Saskatchewan Music Festival Association
receives funding from the SK Lotteries Trust Fund for Sport,Culture and Recreation.