---
Welcome to the
Saskatchewan Music Festival Association
Competitive Festivals
The Saskatchewan Music Festival Association (established in 1908) is committed to promoting excellence in music and speech arts by providing performance and educational opportunities through competitive music festivals in the Province of Saskatchewan. In addition to the production of 47 district music festivals, SMFA provides a provincial Syllabus, entrance to the annual Provincial Competitions, Concerto Competition and Opera Competition, as well as the National Level of Music Festival competition. Member festivals are organized by local volunteers and judged by qualified professional musicians.

Areas of competition for musicians include: voice, piano, guitar, strings, woodwind, brass, percussion, pipe and electronic organ, choir/school music including special education, multicultural, speech arts (individual verse and speech therapy classes, storytelling), small ensembles, as well as band and orchestral classes. Entrance to SMFA festivals is accessible to all ages, all ethnic groups and people of all religions across the province. Participants may enter any classes for "adjudication only" and forego marks and scholarships. SMFA hires over 170 qualified professional musicians to serve as adjudicators each year.
---
SMFA Fall Conference & AGM – Regina
Conference Schedule
Friday:
6:00 p.m. Registration
7:00 p.m. Session #1 (Inclusive Communities) Yordanos Tesfamariam, Multi-Cultural Council of Saskatchewan (MCos)
Our communities are increasingly diverse. It is our strength. It requires planning to engage and benefit all members. This toolkit gives you a user-friendly model with colour coded sections, photos, testimonials, success stories, etc. It includes an array of helpful tools and resources. It is original! It is designed to fit Saskatchewan's unique needs with appropriate tools.
8:00 p.m. Announcements/Roundtable
9:00 p.m. President's Reception & Entertainment
Saturday:
8:00 a.m. Continental Breakfast/Networking
8:30 a.m. Session #2 (Governance/Review Process) Nancy & Carol
Non-profit governance has a dual focus: achieving the organization's social mission and the ensuring the organization is viable. Both responsibilities relate to fiduciary responsibility that a board of trustees (sometimes called directors, or Board, or Management Committee—the terms are interchangeable) has with respect to the exercise of authority over the actions the organization takes. Public trust and accountability is an essential aspect of organizational viability, so it achieves the social mission in a way that is respected by those whom the organization serves and the society in which it is located. We will review the basic governance practices and present the SMFA audit process.
9:00 a.m. Session #3 (Social Media/Public Relations) Pat Rediger of Benchmark Publications
Pat Rediger is a journalist, author, public relations consultant and entrepreneur. He has been a partner in various publishing companies before establishing Benchmark Public Relations Inc. He is also the principal of Benchmark Press, a wholly-owned subsidiary of Benchmark Public Relations. Active in the community, he has served as the President of the Saskatchewan Writers Guild and has been a board member of the Western Magazine Awards Foundation and the Saskatchewan Science Centre. Pat will touch on how a small non-profit can work with the media to capture their attention and result in favorable coverage.
Instagram? Facebook? Pinterest? Twitter? Snapchat? YouTube? LinkedIn? These days, social media sites inevitably seem to pop up and take control of the conversation. Where do you even start? How do you keep up? Where do you focus your time? Pat will help you sort it out and create a meaningful presence on the platforms that make sense for you.
10:30 a.m. AGM/Elections
11:30 a.m. Volunteer Luncheon, Keynote Address, Entertainment
2:30 p.m. Session #4 (Q & A)
3:30 p.m. Session #5 (Care and Feeding of Your Adjudicator) Cherith Alexander
Cherith Alexander, Adjudicator and Adjudicator Training Facilitator will present some tips are what adjudicators expect from their festival committee. She will review the SMFA process for hiring adjudicators and briefing. Roles and responsibilities will be discussed and an opportunity for questions will be provided.
PLEASE NOTE REGISTRATION FEE OF $165
(NO CHARGE FOR FRIDAY EVENING SESSION)
Hotel Information
Travelodge Hotel
4177 Albert Street, Regina, SK
1-306-586-3443
www.travelodgeregina.com
Guest Room rate: $135/night + taxes/fees
Group Reservation SASK MUSIC FESTIVAL
Reserve before September 27, 2019 to guarantee room rate
PLEASE CONTACT THE HOTEL DIRECTLY TO RESERVE GUEST ROOMS.
---
Team Saskatchewan – success at Nationals!
SMFA is proud to congratulate Emma Johnson, soprano, winner of the Grand Award at the 2019 National Music Festival in Saskatoon. Emma earned the NRS Foundation – Victoria Foundation $5,000 grand prize, along with performance opportunities with the Prince George and Thunder Bay Symphony Orchestras.

Emma Johnson accepts her award from His Honour the Honourable Russ Mirasty, Lieutenant Governor of Saskatchewan while Joy McFarlane-Burton, former President of FCMF looks on.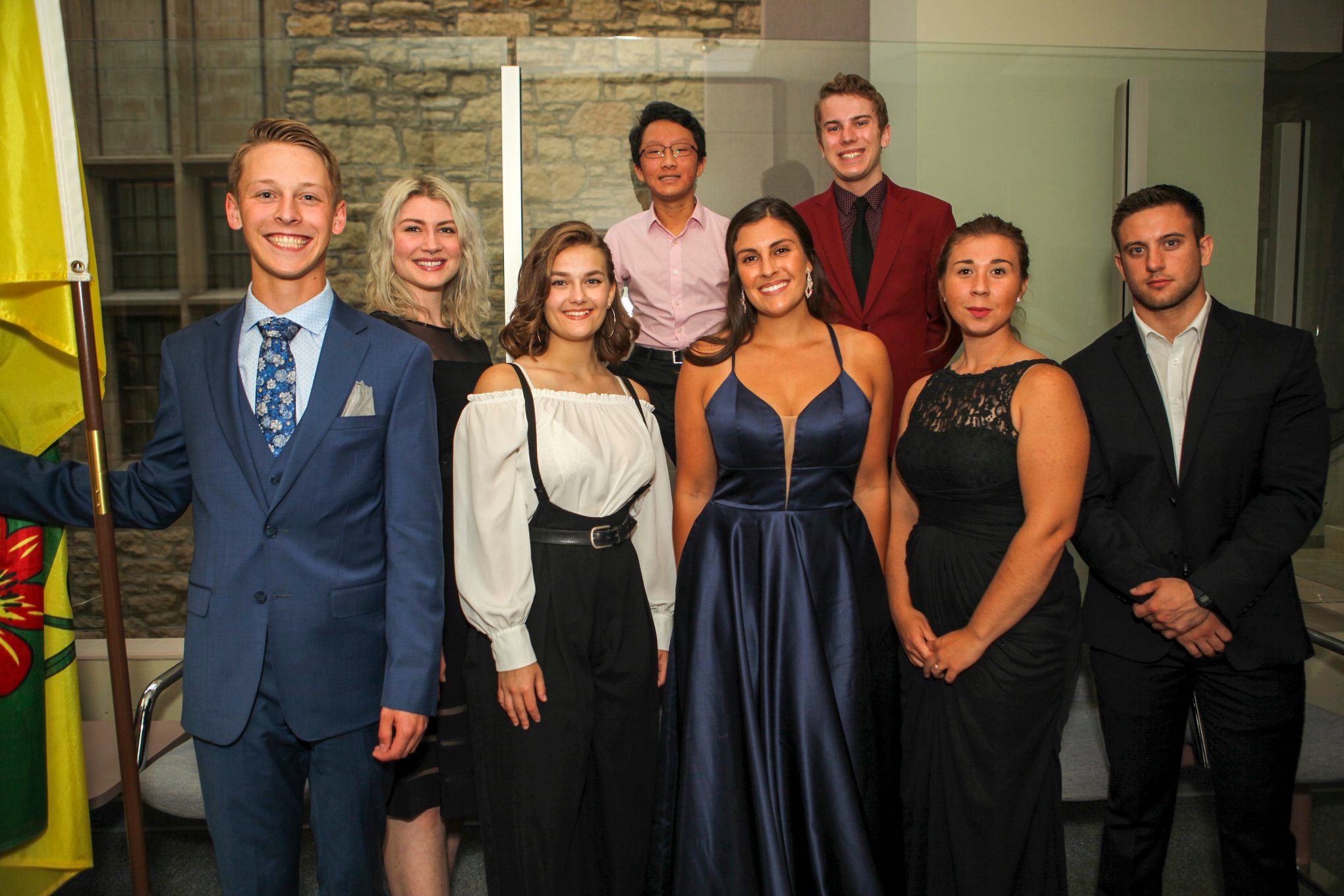 Back, left to right: Olivia Guselle (mezzo-soprano); Jerry Hu (piano – 2nd place); Declan Hewitt (musical theatre-3rd place);
Front, left to right: Carson Froehlich (guitar – 3rd place); Annika Tupper (musical theatre); Emma Johnson (soprano – 1st place & Grand Award winner); Abby Fuller (trumpet – 2nd place in brass); Jonathan Craig Penner (cello)

---
Driving to the Beat! And the winner is…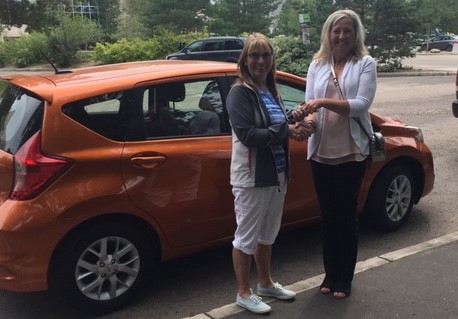 Maureen Hudec of North Battleford! Executive Director Carol Donhauser handed over the keys to the 2019 Nissan Versa Note, following the draw and announcement at the National Music Festival Grand Awards. Thank you to Oakwood Nissan (Saskatoon) and to all the individuals and district festivals for supporting this fundraiser!
Fundraising Opportunity
In celebration of the 110th Anniversary of SMFA in 2019, we gratefully accept donations which enable us to continue to deliver our mission of promoting musical excellence in Saskatchewan. Please consider a donation of $110, or an amount of your choice. Charitable tax receipts will be issued for all donations.
Donation Form
SMFA gratefully acknowledges the following, for generously supporting
our 110th Anniversary Fundraising Campaign:
Lynn Cavanagh
Kerry DuWors
Fireside Singers (Marilyn Whitehead), Saskatoon
Kathleen Keple
Joy McFarlane-Burton
John Nelson
Lore Ruschiensky
Robin Rutherford
Rose E. Schmalz
Darrell and Kelly Stein
Marshall Whelan
Battlefords Kiwanis Music Festival
Dr. Garry Gable
Kathleen Gable
---
Provincial Finals Competition – Moose Jaw
Emma Johnson (soprano) is the winner of the prestigious Sister Geraldine Boyle Gold Award for the most outstanding performance of the Senior Grand Awards Competition. The award of $1,000 was presented by Joy McFarlane-Burton on behalf of Joanne Messer, donor. The Wallis Silver Award was won by Jerry Hu (piano) and the Blanche Squires Memorial Bronze Award went to Shion Tamashiro (violin).
Nearly 350 participants from Saskatchewan's 47 District Music Festivals were heard by six judges over four days. Choral entries were submitted by recording and judged prior to the weekend competition. On Friday evening, May 30, intermediate competitors chosen from each discipline competed in the Intermediate Grand Awards Competition. On Saturday evening, June 1, senior competitors chosen from each discipline competed in the Senior Grand Awards Competition. Prizes of over $25,000 were awarded over the weekend.
Photo credit: Stephen Nicholson
---
The Saskatchewan Music Festival Association
receives funding from the SK Lotteries Trust Fund for Sport,Culture and Recreation.