---
Welcome to the
Saskatchewan Music Festival Association
Competitive Festivals
The Saskatchewan Music Festival Association (established in 1908) is committed to promoting excellence in music and speech arts by providing performance and educational opportunities through competitive music festivals in the Province of Saskatchewan. In addition to the production of 47 district music festivals, SMFA provides a provincial Syllabus, entrance to the annual Provincial Competitions, Concerto Competition and Opera Competition, as well as the National Level of Music Festival competition. Member festivals are organized by local volunteers and judged by qualified professional musicians.

Areas of competition for musicians include: voice, piano, guitar, strings, woodwind, brass, percussion, pipe and electronic organ, choir/school music including special education, multicultural, speech arts (individual verse and speech therapy classes, storytelling), small ensembles, as well as band and orchestral classes. Entrance to SMFA festivals is accessible to all ages, all ethnic groups and people of all religions across the province. Participants may enter any classes for "adjudication only" and forego marks and scholarships. SMFA hires over 170 qualified professional musicians to serve as adjudicators each year.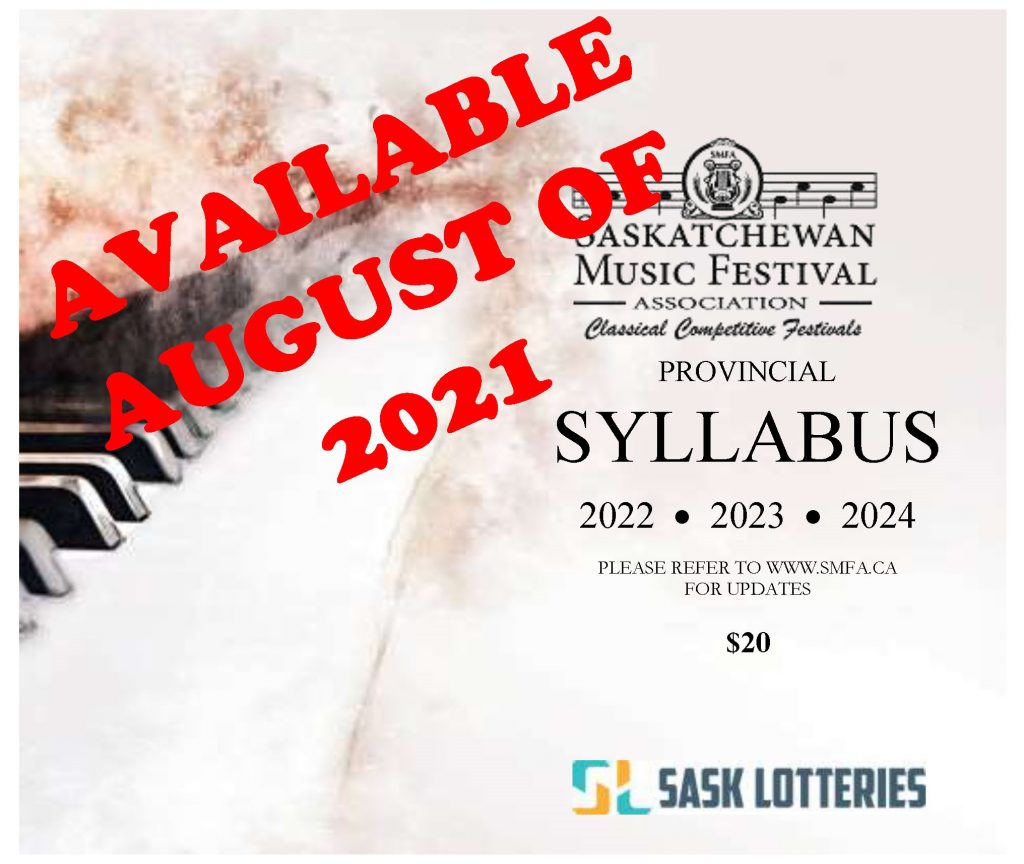 ---
SMFA Provincial Finals Competition (Virtual Format)  June 3 to 6, 2021
Provincial Finals Program with results
---
SMFA 50/50 Lottery Fundraiser

Congratulations to Melissa Raschke of Biggar, SK, winner of the $1,275 prize.
Thank you for your support of music festivals in Saskatchewan!
---
Canada West Performing Arts Festival – Saskatoon
NEW in 2022!

The provincial performing arts associations of Western Canada (Saskatchewan, Alberta and British Columbia) have partnered to present the Canada West Performing Arts Festival!
---
SMFA Annual General Meeting
November 6, 2021

---
SMFA Teacher Directory

The SMFA Teacher Directory is intended to help connect teachers with students in communities where there is a need. Teachers accepting new students are invited to submit their information to sask.music.festival@sasktel.net for inclusion in the directory.
SMFA Teacher Directory
Use of this resource does not constitute or imply an endorsement by SMFA.
---
Employment Opportunity – Teacher Mentor Liaison

The SMFA is seeking a Teacher/Mentor Liaison to recruit teachers and mentors in communities where our 47 affiliate music and speech festivals operate. The position is a 10-month contract position and reports directly to the Executive Director.
Please send cover letter and resume to Carol Donhauser, Executive Director (carol.smfa@sasktel.net) on or before July 15, 2021. Only candidates chosen for an interview will be notified.
---
Provincial Office – New Address
The Provincial Office of the Saskatchewan Music Festival Association is now located at:
1600 MacPherson Avenue
Regina, SK   S4S 4C9
Mailing address remains the same at:
PO Box 37005
Regina, SK   S4S 7K3
---
The Saskatchewan Music Festival Association
receives funding from the SK Lotteries Trust Fund for Sport,Culture and Recreation.