---
Welcome to the
Saskatchewan Music Festival Association
Competitive Festivals
The Saskatchewan Music Festival Association (established in 1908) is committed to promoting excellence in music and speech arts by providing performance and educational opportunities through competitive music festivals in the Province of Saskatchewan. In addition to the production of 47 district music festivals, SMFA provides a provincial Syllabus, entrance to the annual Provincial Competitions, Concerto Competition and Opera Competition, as well as the National Level of Music Festival competition. Member festivals are organized by local volunteers and judged by qualified professional musicians.

Areas of competition for musicians include: voice, piano, guitar, strings, woodwind, brass, percussion, pipe and electronic organ, choir/school music including special education, multicultural, speech arts (individual verse and speech therapy classes, storytelling), small ensembles, as well as band and orchestral classes. Entrance to SMFA festivals is accessible to all ages, all ethnic groups and people of all religions across the province. Participants may enter any classes for "adjudication only" and forego marks and scholarships. SMFA hires over 170 qualified professional musicians to serve as adjudicators each year.
---
Important Notice for 2020
At the 2019 SMFA Annual General Meeting on October 26, 2019 the following motion was carried: Saskatchewan Music Festival Association (SMFA) withdraw from the (2020) National Music Festival in (the) 2020 (festival year). Therefore, the National Classes are not eligible for entry in any affiliated Saskatchewan Music Festival in the 2020 festival year.
The Board of Directors is pleased to announce, for the 2020 festival year, the creation of the SMFA Senior Excellence Classes, available to competitors at the District Festival Level with opportunity for advancement to Provincial Finals.
Click on the link below for information on the new SMFA Senior Excellence Classes, the first SMFA Musical Theatre Competition to take place in February 2020, and the new Concerto Classes at Provincial Finals.
Important Notice
---
Gordon C. Wallis Opera Competition – Regina
For information, visit Wallis Opera.

Wallis Opera Competition Program

---
SMFA Musical Theatre Competition (NEW!) – Regina
The Saskatchewan Music Festival Association has established a Music Theatre competition to encourage and assist young Saskatchewan singers in furthering their studies in Musical Theatre. The competition will be held, every two years, with a first and second prize of $1,000 and $750 (prizes can only be used to further Musical Theatre studies and will be payable to a school/teacher of winner's choice) .
The first SMFA Musical Theatre Competition will be held February 22 & 23, 2020 at the University of Regina Conservatory of Performing Arts, 2155 College Avenue, Regina. For information, visit Musical Theatre Competition.

Musical Theatre Competition Program
---
SMFA Fall Conference & AGM – Regina
---
Team Saskatchewan – success at Nationals!
SMFA is proud to congratulate Emma Johnson, soprano, winner of the Grand Award at the 2019 National Music Festival in Saskatoon. Emma earned the NRS Foundation – Victoria Foundation $5,000 grand prize, along with performance opportunities with the Prince George and Thunder Bay Symphony Orchestras.

Emma Johnson accepts her award from His Honour the Honourable Russ Mirasty, Lieutenant Governor of Saskatchewan while Joy McFarlane-Burton, former President of FCMF looks on.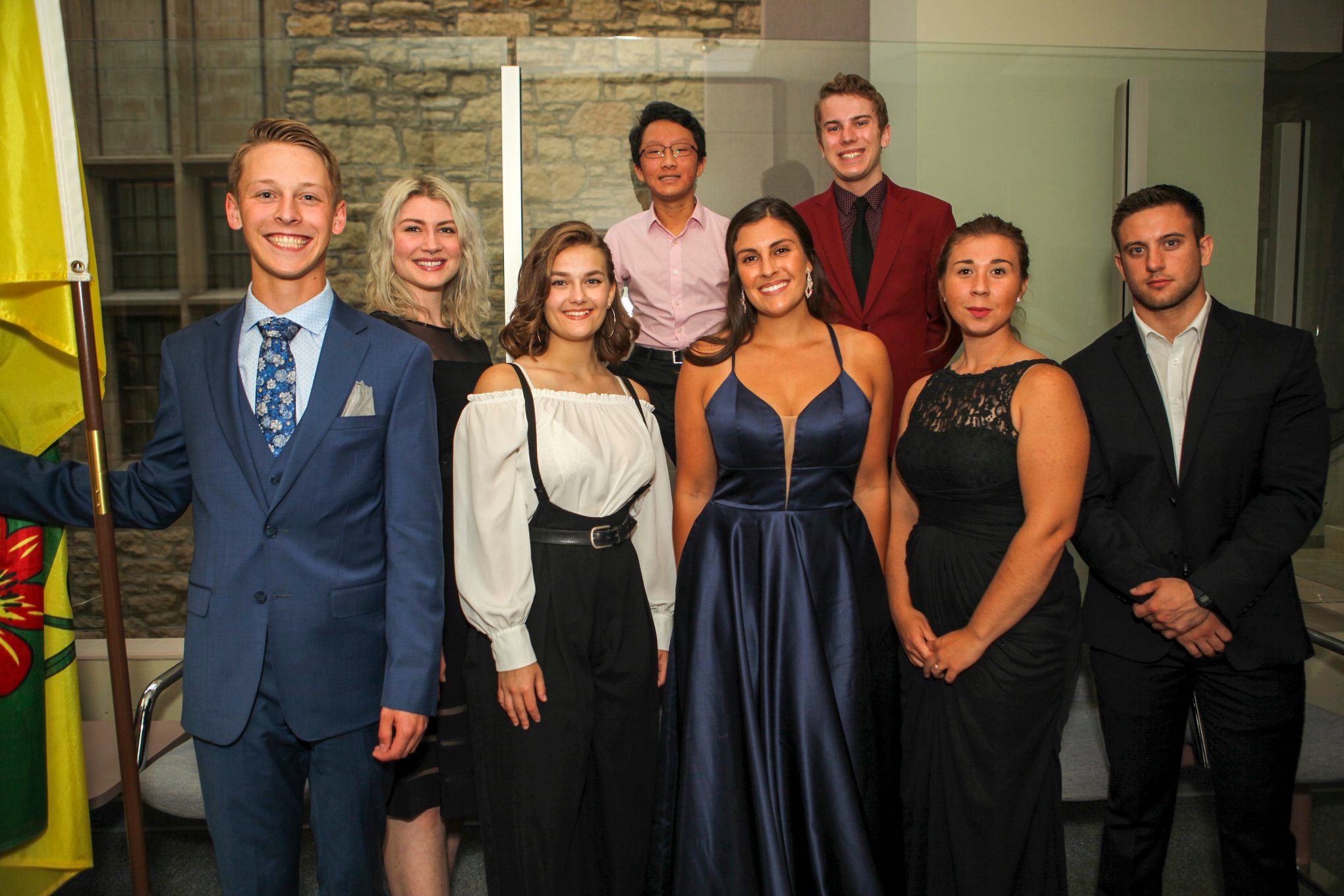 Back, left to right: Olivia Guselle (mezzo-soprano); Jerry Hu (piano – 2nd place); Declan Hewitt (musical theatre-3rd place);
Front, left to right: Carson Froehlich (guitar – 3rd place); Annika Tupper (musical theatre); Emma Johnson (soprano – 1st place & Grand Award winner); Abby Fuller (trumpet – 2nd place in brass); Jonathan Craig Penner (cello)

---
Driving to the Beat! And the winner is…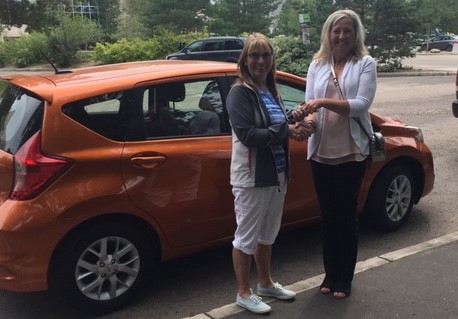 Maureen Hudec of North Battleford! Executive Director Carol Donhauser handed over the keys to the 2019 Nissan Versa Note, following the draw and announcement at the National Music Festival Grand Awards. Thank you to Oakwood Nissan (Saskatoon) and to all the individuals and district festivals for supporting this fundraiser!
Fundraising Opportunity
In celebration of the 110th Anniversary of SMFA in 2019, we gratefully accept donations which enable us to continue to deliver our mission of promoting musical excellence in Saskatchewan. Please consider a donation of $110, or an amount of your choice. Charitable tax receipts will be issued for all donations.
Donation Form
SMFA gratefully acknowledges the following, for generously supporting
our 110th Anniversary Fundraising Campaign:
Lynn Cavanagh
Kerry DuWors
Fireside Singers (Marilyn Whitehead), Saskatoon
Kathleen Keple
Joy McFarlane-Burton
John Nelson
Lore Ruschiensky
Robin Rutherford
Rose E. Schmalz
Darrell and Kelly Stein
Marshall Whelan
Battlefords Kiwanis Music Festival
Dr. Garry Gable
Kathleen Gable
---
Provincial Finals Competition – Moose Jaw
Emma Johnson (soprano) is the winner of the prestigious Sister Geraldine Boyle Gold Award for the most outstanding performance of the Senior Grand Awards Competition. The award of $1,000 was presented by Joy McFarlane-Burton on behalf of Joanne Messer, donor. The Wallis Silver Award was won by Jerry Hu (piano) and the Blanche Squires Memorial Bronze Award went to Shion Tamashiro (violin).
Nearly 350 participants from Saskatchewan's 47 District Music Festivals were heard by six judges over four days. Choral entries were submitted by recording and judged prior to the weekend competition. On Friday evening, May 30, intermediate competitors chosen from each discipline competed in the Intermediate Grand Awards Competition. On Saturday evening, June 1, senior competitors chosen from each discipline competed in the Senior Grand Awards Competition. Prizes of over $25,000 were awarded over the weekend.
Photo credit: Stephen Nicholson
---
The Saskatchewan Music Festival Association
receives funding from the SK Lotteries Trust Fund for Sport,Culture and Recreation.