Welcome to the
Saskatchewan Music Festival Association
Competitive Festivals
The Saskatchewan Music Festival Association (established in 1908) is committed to promoting excellence in music and speech arts by providing performance and educational opportunities through competitive music festivals in the Province of Saskatchewan. In addition to the production of 47 district music festivals, SMFA provides a provincial Syllabus, entrance to the annual Provincial Competitions, Concerto Competition and Opera Competition, as well as the National Level of Music Festival competition. Member festivals are organized by local volunteers and judged by qualified professional musicians.

Areas of competition for musicians include: voice, piano, guitar, strings, woodwind, brass, percussion, pipe and electronic organ, choir/school music including special education, multicultural, speech arts (individual verse and speech therapy classes, storytelling), small ensembles, as well as band and orchestral classes. Entrance to SMFA festivals is accessible to all ages, all ethnic groups and people of all religions across the province. Participants may enter any classes for "adjudication only" and forego marks and scholarships. SMFA hires over 170 qualified professional musicians to serve as adjudicators each year.
Saskatchewan Lotteries
SMFA is one of the 12,000+ sport, culture and recreation groups funded by Saskatchewan Lotteries. Every time you purchase a lottery ticket in Saskatchewan, a portion of that revenue supports a wealth of organizations, including District Festivals across the province who are enriching their communities with performing arts. Help support the arts – Purchase your tickets TODAY!!

DONATIONS are gratefully accepted and tax receipts will be issued. To donate to SMFA, please click on the button below.
DONATE HERE
Thank you for your support!
---
SMFA District Festivals – February through May


Find a District Festival near you.
---
SMFA Concerto Competition – Feb. 25 & 26, 2023 – Regina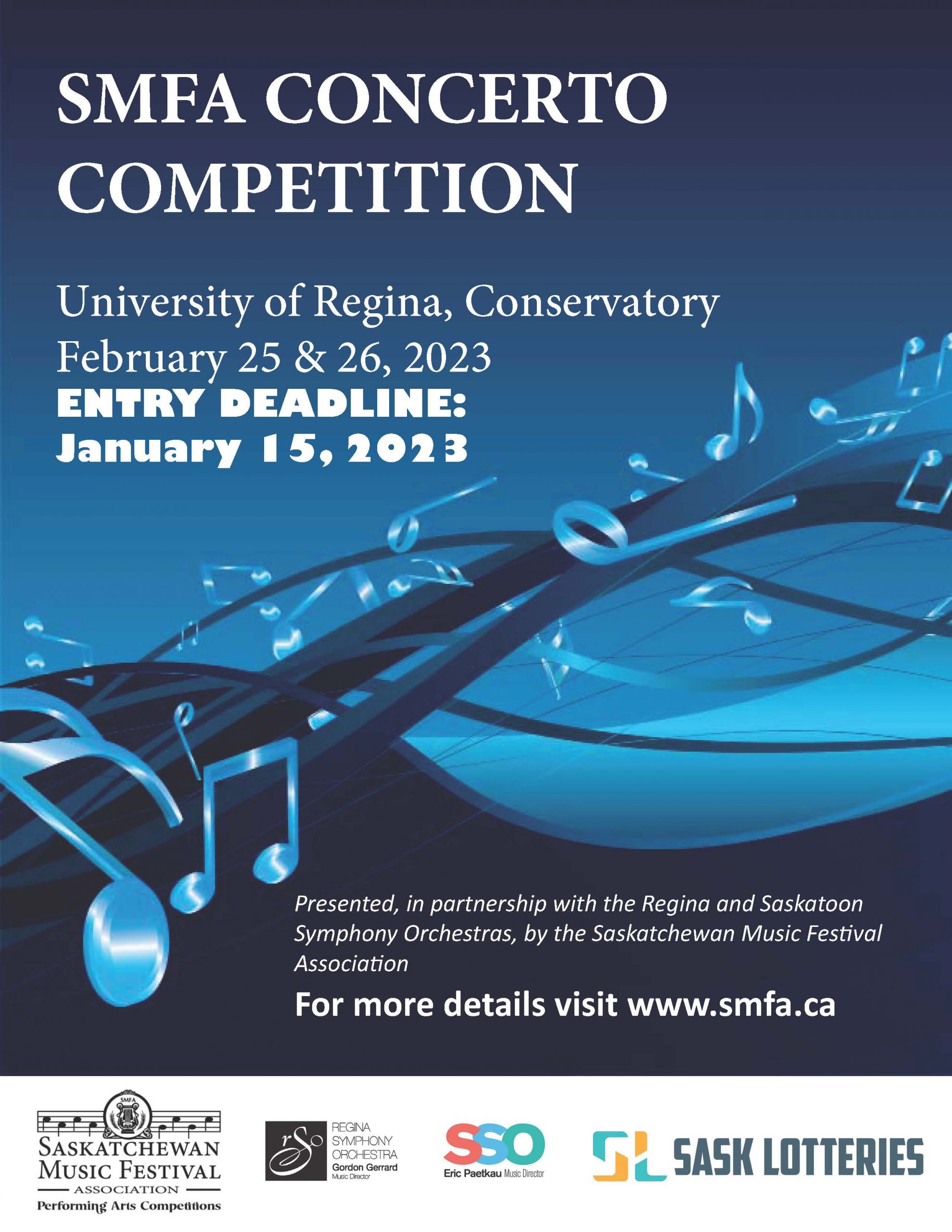 Entries are now closed.

---
SMFA Conference & AGM – November 18 & 19, Moose Jaw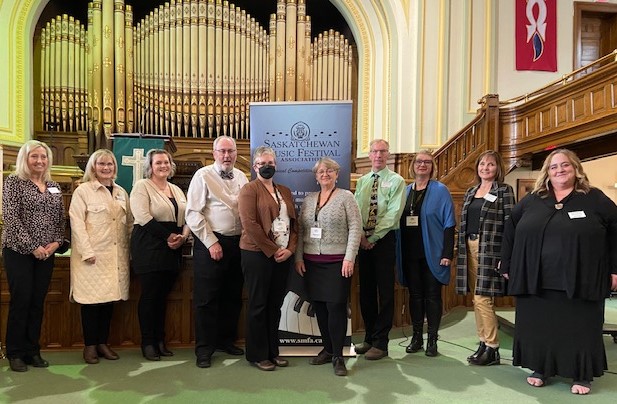 Carol Donhauser (Executive Director); Dianne Gryba (1st Vice President); Alisha Mann (2nd Vice President); Doug McCosh, Penny Miles, Heather Macnab, Clayton
Braybrook, Karen Frandsen (Directors); Tammy Villeneuve (Past President); Jeri Ryba (President)
Five volunteers were honoured by SMFA and their District Festivals for outstanding contributions to their festival: Angela Gent (Borderland @ Coronach), Sandra Bazin (Estevan),
Cindy Hayward (Rosetown), Terry Ross (Saskatoon), and Linda Sogbetun (Yorkton). Congratulations and thank you for your service!
Volunteer Award Recipients
Chelsea Mahan and Olivia Adams were awarded the SMFA Adjudicating Excellence Award. A scholarship will be awarded at the 2023 Provincial Finals Competition in honour of their
outstanding work. SMFA is grateful for the work of all of our adjudicators who have gone above and beyond the call of duty during our COVID festival years.
Adjudicating Excellence Award Recipients
---
Canada West Performing Arts Festival – July 21 & 22, Edmonton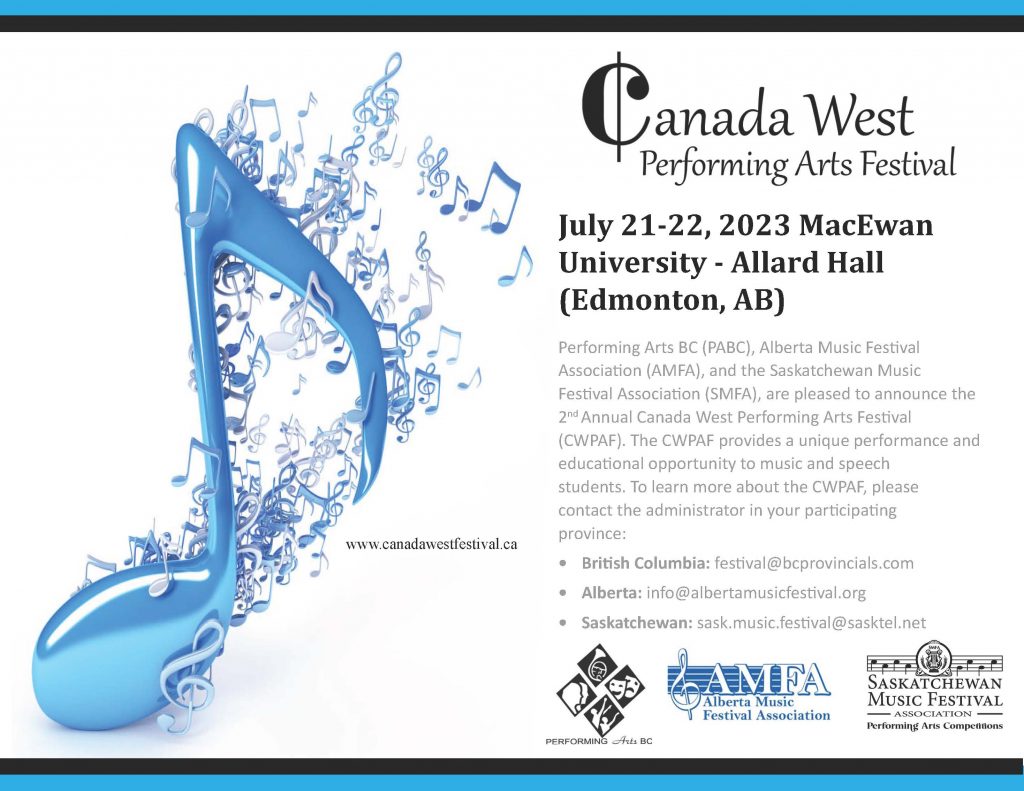 2023 Canada West Performing Arts Festival – Rules and Syllabus
https://www.canadawestfestival.ca/
---
FUNDS FOR FESTIVAL – Fundraiser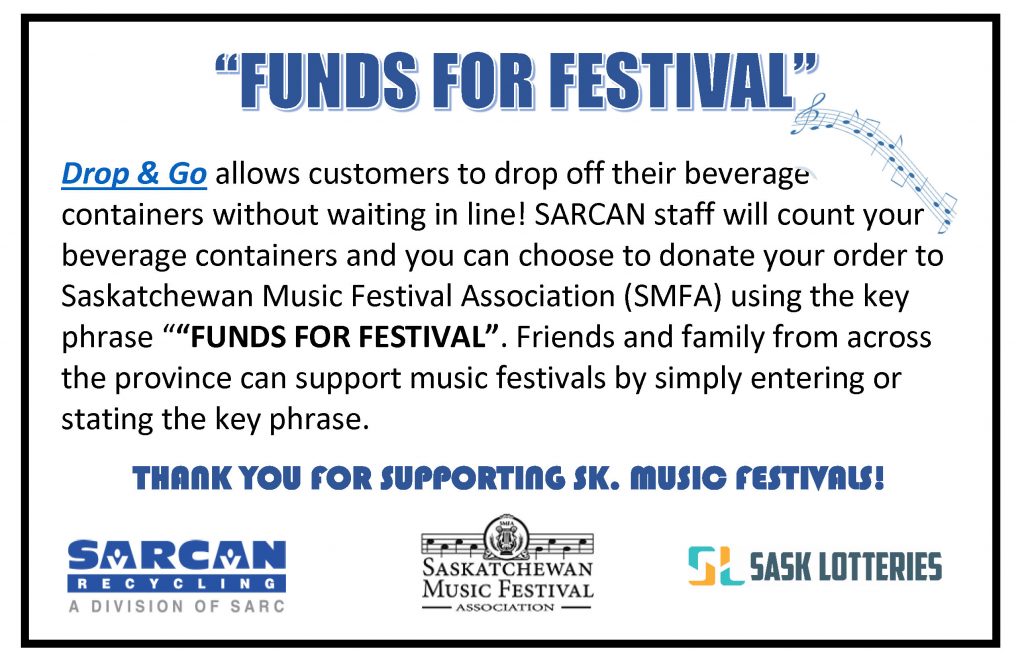 ---
SMFA Teacher Directory

The SMFA Teacher Directory is intended to help connect teachers with students in communities where there is a need. Teachers accepting new students are invited to submit their information to sask.music.festival@sasktel.net for inclusion in the directory.
SMFA Teacher Directory
Use of this resource does not constitute or imply an endorsement by SMFA.
---
Provincial Office – Address
The Provincial Office of the Saskatchewan Music Festival Association is now located at:
1600 MacPherson Avenue
Regina, SK   S4S 4C9
Mailing address:
PO Box 37005
Regina, SK   S4S 7K3
---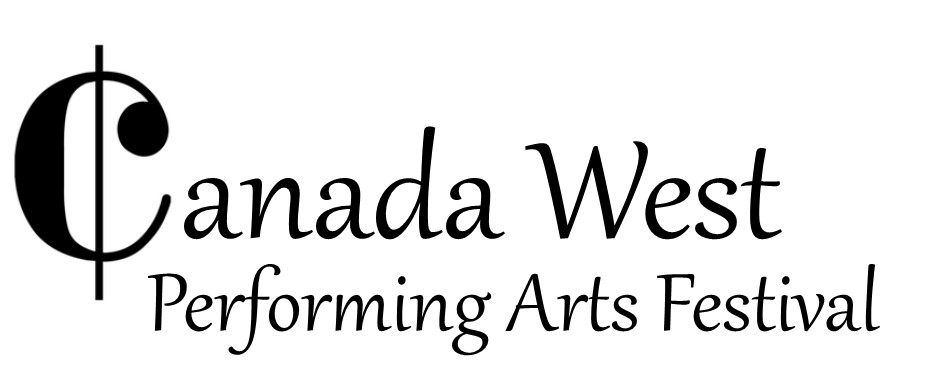 July 21 to 22, 2023 in Edmonton, AB
2023 CWPAF – Rules and Syllabus
2022 Media Release – Results
Program – with Scholarship Winners

The Saskatchewan Music Festival Association
receives funding from the SK Lotteries Trust Fund for Sport,Culture and Recreation.