---
Welcome to the
Saskatchewan Music Festival Association
Competitive Festivals
The Saskatchewan Music Festival Association (established in 1908) is committed to promoting excellence in music and speech arts by providing performance and educational opportunities through competitive music festivals in the Province of Saskatchewan. In addition to the production of 47 district music festivals, SMFA provides a provincial Syllabus, entrance to the annual Provincial Competitions, Concerto Competition and Opera Competition, as well as the National Level of Music Festival competition. Member festivals are organized by local volunteers and judged by qualified professional musicians.

Areas of competition for musicians include: voice, piano, guitar, strings, woodwind, brass, percussion, pipe and electronic organ, choir/school music including special education, multicultural, speech arts (individual verse and speech therapy classes, storytelling), small ensembles, as well as band and orchestral classes. Entrance to SMFA festivals is accessible to all ages, all ethnic groups and people of all religions across the province. Participants may enter any classes for "adjudication only" and forego marks and scholarships. SMFA hires over 170 qualified professional musicians to serve as adjudicators each year.
Saskatchewan Lotteries
SMFA is one of the 12,000+ sport, culture and recreation groups funded by Saskatchewan Lotteries. Every time you purchase a lottery ticket in Saskatchewan, a portion of that revenue supports a wealth of organizations, including District Festivals across the province who are enriching their communities with performing arts. Help support the arts – Purchase your tickets TODAY!!

---
SMFA 2022-2024 Syllabus –

NEW



Highlights:
Regulations – Clear and concise rules that support a fair playing field for all participants.
Inclusiveness:

Gender specific titles have been replaced with musical and age-appropriate ones
Increased number of age categories in several class groupings
Added more Grade-level Classes
Re-vamped Choral Classes.

Removal of test piece classes – Usage of test pieces had drastically dropped, and we could no longer justify the work involved in providing them. Previous SMFA Syllabi will be made available on the SMFA website as reference for teachers who may require guidance in choosing repertoire for their students.
Removal of references to Senior, Intermediate, Junior, Elementary and Primary Divisions. References are now by specific age groups (Open, 28 & under, 17 & under, etc.).
Addition of a "Non-Competitive" group of classes for students who prefer a performance opportunity only.
Addition of Workshop Classes which are available for all students under the Non-Competitive tab.
Addition of a "Provincial" tab – All Provincial classes are now listed in one location. District level Provincial classes are listed under the Provincial Scholarship Classes in to which they feed.
Addition of Spoken Word Classes for classroom students – to encourage participation in this discipline, particularly in school classrooms.
Syllabus 2022-2024 (v10.21.21)
Order Form
Syllabus Changes & Corrections are found here. (updated January 11, 2022)

---
COVID-Safe Planning for District Festivals in 2022

In order to safeguard our stakeholders, Saskatchewan Health Authority (SHA) Public Health Measures for live-music or recorded events, venue policies and SMFA requirements must be followed. Visit the Government of Saskatchewan Public Health Measures ​for the most up-to-date information from the SHA.
Requirements and Guidelines to Hosting Festivals in 2022 (December 9, 2021)
Guidelines for Virtual Festivals 2022
COVID Q&A (December 10, 2021)
---
Wallis Opera Competition
February 25 –

PLEASE NOTE CHANGE TO VIRTUAL FORMAT



ENTRY DEADLINE HAS BEEN EXTENDED TO FEBRUARY 1, 2022.
Wallis Opera Competition Regulations
Opera Competition Entry Form
---
SMFA Musical Theatre Competition
February 26, 2022 –

PLEASE NOTE CHANGE TO VIRTUAL FORMAT



ENTRY DEADLINE HAS BEEN EXTENDED TO FEBRUARY 1, 2022.
Musical Theatre Competition Regulations
Musical Theatre Competition Entry Form
---
Canada West Performing Arts Festival – NEW in 2022!
July 21 – 23, 2022 in Saskatoon

The provincial performing arts associations of Western Canada (Saskatchewan, Alberta and British Columbia) have partnered to present the Canada West Performing Arts Festival!
---
Lenora Bells joins SMFA as Teacher Recruitment/Mentor Liaison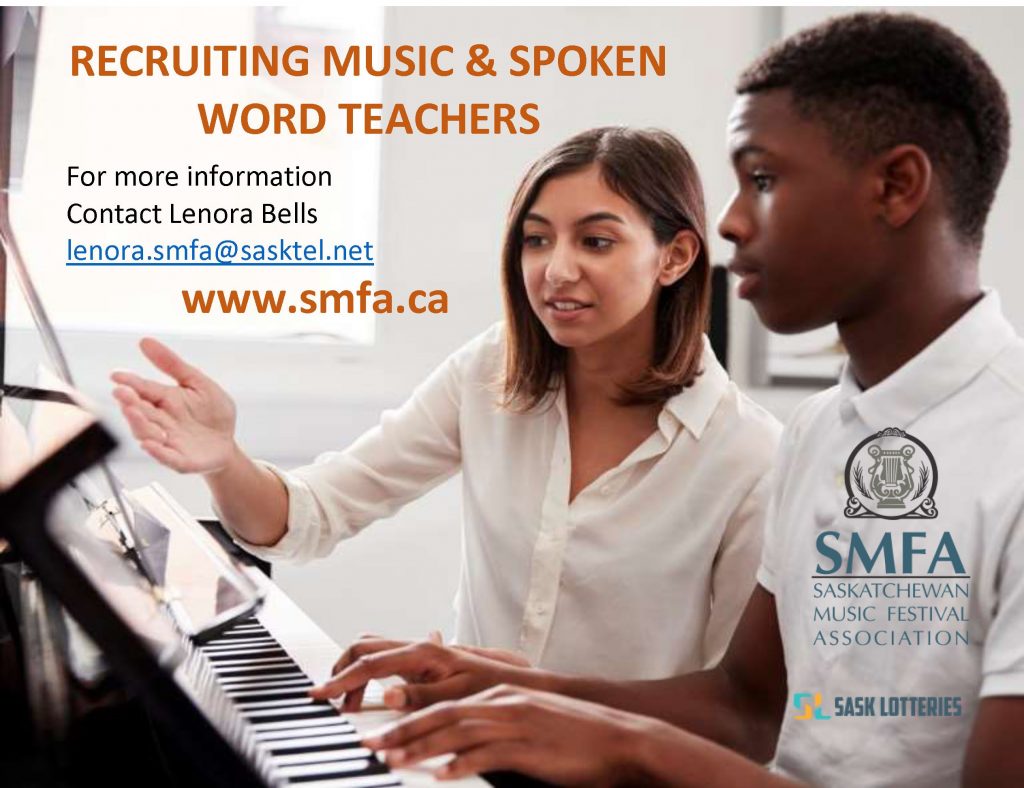 We are pleased to welcome Lenora Bells to our administrative team at the SMFA Provincial Office. Lenora will work remotely and can be reached at her email lenora.smfa@sasktel.net.
Lenora brings a wealth of teaching, adjudicating, and presentation experience to this position. Her knowledge and passion for the music festival system serve her well as she tackles the following priorities in this position:
Meet with District Festivals to assess needs (teachers, accompanists, mentors for new teachers)
Work with District Festivals to provide teachers with training, mentorship, and support networks
Support festivals by building stronger relationships with local teachers/potential new teachers
Provide guidance to supporting mentors
Recruit teachers to the use of SMFA programs and promoting the benefits of music festivals
We look forward to working with Lenora during the next few months as we prepare for another festival season.
---
SMFA Teacher Directory

The SMFA Teacher Directory is intended to help connect teachers with students in communities where there is a need. Teachers accepting new students are invited to submit their information to sask.music.festival@sasktel.net for inclusion in the directory.
SMFA Teacher Directory
Use of this resource does not constitute or imply an endorsement by SMFA.
---
Provincial Office – New Address
The Provincial Office of the Saskatchewan Music Festival Association is now located at:
1600 MacPherson Avenue
Regina, SK   S4S 4C9
Mailing address remains the same at:
PO Box 37005
Regina, SK   S4S 7K3
---
The Saskatchewan Music Festival Association
receives funding from the SK Lotteries Trust Fund for Sport,Culture and Recreation.