Our Mission, Vision & Proud History
The Saskatchewan Music Festival Association has a proud heritage.
SMFA provides a platform for music festival performances for students across the province.
The Saskatchewan Music Festival Association (SMFA) is the provincial body representing 47 district community music festival organizations across the province. Many communities all over Saskatchewan are involved annually in producing volunteer-run district festivals, workshops, and concerts. These involve more than 70,000 people as participants, volunteers, and audience members.
SMFA was established in 1908 and is incorporated under the Non-Profit Corporations Act. The SMFA is also affiliated with the Saskatchewan Ministry of Parks, Culture and Sport, and  SaskCulture, Inc. 
Vision
Enhancing lives through an appreciation
for music.
Mission
Promoting excellence in music and speech through competitions, performance, and
educational opportunities for
all of the people of Saskatchewan.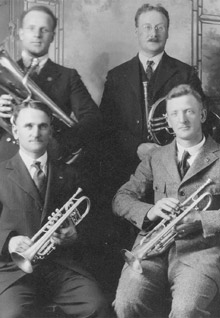 The Saskatchewan Music Festival Association (SMFA) is one of the province's oldest organizations and has profoundly influenced all music in Saskatchewan. We have an enviable system that exists in this country, thanks to Governor General Earl Grey. In addition to football, he had the arts on his mind. Following a concert which was part of the inauguration ceremonies of Alberta, he proposed that a Canada-wide festival should be established for drama and music. Later, he sent letters to the Lieutenant-Governors of each province and asked for their support. Alberta and Saskatchewan were the only two provinces to respond. Because competitive music festivals have enjoyed such a long history in Saskatchewan, we tend to think that knowledge of the benefits of this system is widespread. Certainly the descendants of the first festival supporters know why they invest thousands of hours preparing for their annual local festivals.
The mandate of the SMFA continues into its 115th year, and for many children, music festival is their introduction to music and the performing arts. Music training exposes children to the incomparable. Music not only provides enjoyment, but also a means of self-expression. Studying music is an interesting way to learn the value of practice discipline, and in the case of a band, orchestra or choir, the elements of collaboration. In the festival scenario, the competitive aspect allows students to set and attain goals, to learn stage deportment, to listen, to win or lose graciously and to become good audience members.
The SMFA has contributed greatly to the cultural life of our province by providing performance platforms in communities all across Saskatchewan. Performers in our 47 Member Saskatchewan Music Festivals also have access to a Provincial Syllabus and an annual Provincial Finals Competition. Serious musicians performing at an advanced level have additional opportunities to enter the Shurniak Concerto Competition or the Wallis Opera Competition, held in alternate years and in co-operation with the Regina and Saskatoon Symphony Orchestras. New in 2020 is the SMFA Musical Theatre Competition, held in conjunction with the Wallis Opera Competition.
SMFA is deeply grateful for continuing support from the Saskatchewan Lotteries Trust Fund for Sport, Culture & Recreation administered by SaskCulture Inc. Thanks to this generous financial support, and that of our many sponsors and volunteers, the music festival system continues to thrive at the District and Provincial levels.
Honorary Life Members of the Association
*Norman J. Palmer, Saskatoon
*Chief Justice J. T. Brown, Regina
*Lionel Allen, Regina
*Dr. Lyell Gustin, Saskatoon
*Angus Goldie, Regina
*Marguerita Spencer, Saskatoon
*Jean Bradley, Regina
*Phoebe Wesson Cutbush, North Battleford
*Lillian Mitchell, Saskatoon
*Elizabeth Tydeman, Saskatoon
Doris Covey Lazecki, Regina
Janet McGonigle, Saskatoon
Marlene Cherry, Calgary
Gloria Nickell, Rosetown
Joy McFarlane-Burton, Saskatoon
*W. Seemer Betts, Saskatoon
*Thomas Hatton, Regina
*Dr. Carlyle King, Saskatoon
*Gordon Hancock, Regina
*Jean Martin, Saskatoon
*Mossie Hancock, Regina
*Florence Hilderman, Yorkton
*Alastair Brown, Swift Current
*Sheila Shinkewski, Saskatoon
Kathleen L. Keple, Cobble Hill, BC
Penny Joynt, Saskatoon
Sharon Penner, Moose Jaw
Joanne Messer, Tisdale
Theresa Brost, Macklin
Nancy Toppings, Regina
*deceased
Sustaining Patrons
Roger & Marie Jolly
Jayden Stephens
University of Saskatchewan, Music Department
Dr. Jacqui Shumiatcher
*William Shurniak
Distinguished Service Recipients
Kathleen L. Keple, Cobble Hill, BC
Don Webb, Lumsden
Morris Lazecki, Regina
*William Cornish, Regina
*Maggie Chartier, Regina
*Darren Schwartz, Saskatoon
*Larry Johnson, Cherhill, AB
*deceased